Guest Rooms
Inn at a World Heritage Site,
where the form of history,
beauty, and warmth that have been protected
and succeeded, coexist.
Our inn is a 200 years-old gassho-style inn located in gassho-style houses that are registered as a World Heritage Site. It is the two-story building of approximately 11m of height, and it is renovated so that the ceiling of the first floor is higher than before and that the inside is more spacious and easy to live. At night, you can enjoy meals at a hearth of about 20 tatami mats in the Japanese-style room.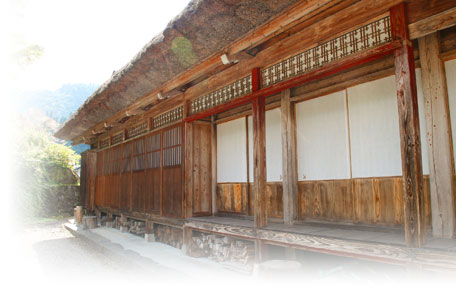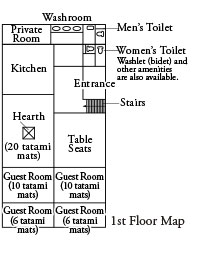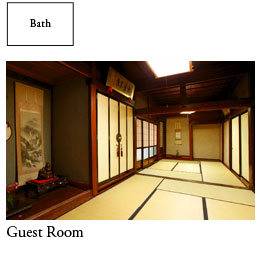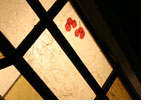 There are also table seats inside the room.

All guest rooms are Japanese-style rooms, and by removing the sliding door between two rooms, they can be used as one large room depending on the number of guests.
Please also note that in order to secure the relaxing atmosphere we limit the number of guests to be less than 10 people or 2 groups per night.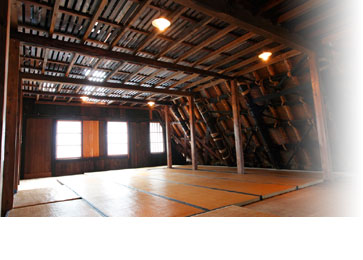 Form of gassho-style polished in the harsh nature and with age.
Strong yet rational structure of gassho-style created from the skill and wisdom of predecessors. You can see the back side of the thatched roof of the gassho-style at the second floor. That second floor was once used as a space for silk warm raising, its thread offered to the Kaga clan. The characteristic of the assembled timber on the roof is that it is not the metal such as nails and clamps, but it is rather joined together by natural materials such as straw ropes and "neso" (twisted branch).
Dining
Indulging in a blissful moment at the hearth, appreciate the richness of the mountain, and enjoy the season's best.
Dinner, the landlady's best offering, is full of delicious food from the mountain. Sitting around the hearth, you can enjoy the taste of the season's best such as freshly salt-grilled char, deep-fried edible wild green, mountain udos dressed with sesame sauce, and "Koino Arai" . Homemade Japanese pickled vegetables the landlady grew in the field are also very popular.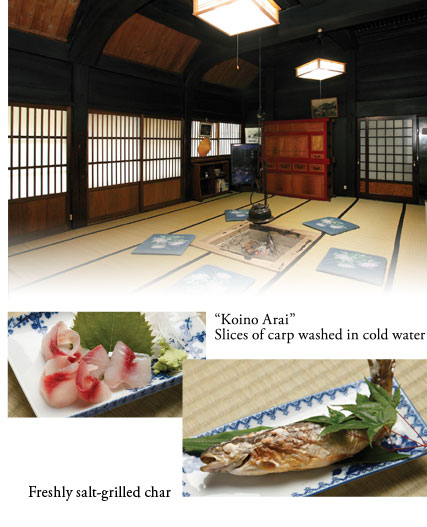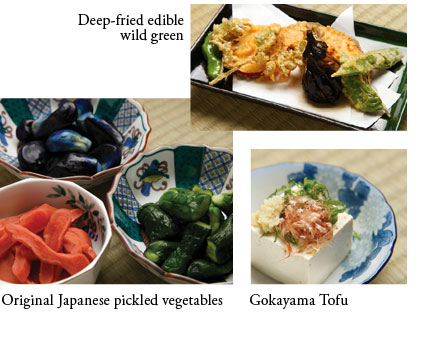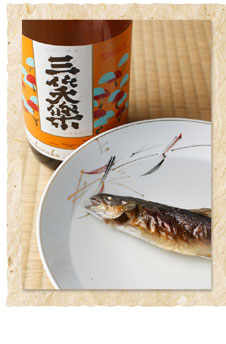 Options
●
Kotsu-sake (bone rice wine) of
 Char: from JPY 2,000
●
Local sake (Sansyouraku),
 shochu (clear distilled liquors)
 of various kinds, wines,
 soft drinks,
 and etc., are also available.
*Prior reservation by the
 day before is necessary.
Bath
Relaxing moments that soothe and heal the fatigue from Gokayama sightseeing.
A large public bath located in front of the inn is a clean and spacious facility. The bath can accommodate a large number of people and refresh the fatigue from travelling. Bathing with family is also possible upon request. Amenities such as yukata (light cotton kino), towels, toothbrush, and etc., are also available.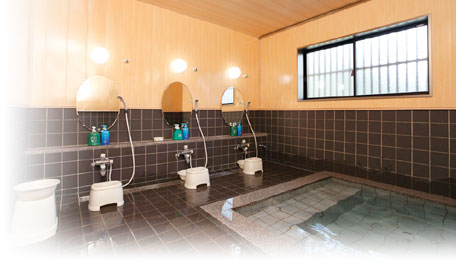 TOP|Introduction|Stay|Rates|Tourist Information|Access|Contact Us