Thank you for visiting our website.
Gokayama ages with nature in the five valleys.
With leaving intact the original landscape of Japan, it marks the passage of time for eternity, and the rich nature depicts the beauty of the four seasons.
No matter how many times you visit, you can always be impressed and discover something new.
gSyoshichih is a 200 years-old gassho-style inn located in Ainokura gassho-style houses that are registered as a World Heritage Site.
Sitting around the hearth, dining with listening to a storyteller, and tasting all what Gokayama has to offer such as edible wild greens, Gokayama tofu, washed char and carp, as well as Japanese pickled vegetables homemade by the landlady, are all the best parts of staying at a World Heritage Site.
We hope you feel the rich nature, meet the history, and enjoy the best of Gokayama by letting yourself relax in the refined atmosphere.
We look forward to your visit, hoping to do our best to make your visit an unforgettable and irreplaceable experience.
gShoshichih Proprietor Ikebata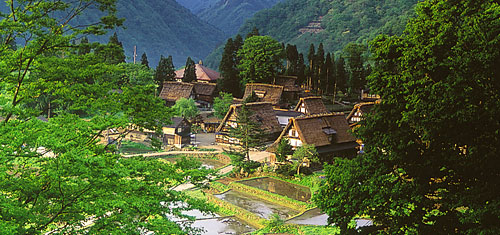 TOPbIntroductionbStaybRatesbTourist InformationbAccessbContact Us